The Ecoplage® process
A simple and natural approach
The Ecoplage® system consists of :
One or several drains installed alongside the coastline. The sea water infiltrates the drains by depression, insuring the desaturation of the sand and therefore a good attraction of the sediments on the upper part of the beach.
Collector pipes and transport pipes which ensure that the sea water coming from the drains flows by gravity to the pump station.
A pump station aimed to evacuate the filtered sea water. This water, perfectly clean, can be rejected to the sea or used for neighboring structures in need for filtered sea water supply (desalination units, pools, aquariums, Thalassa, pisciculture …).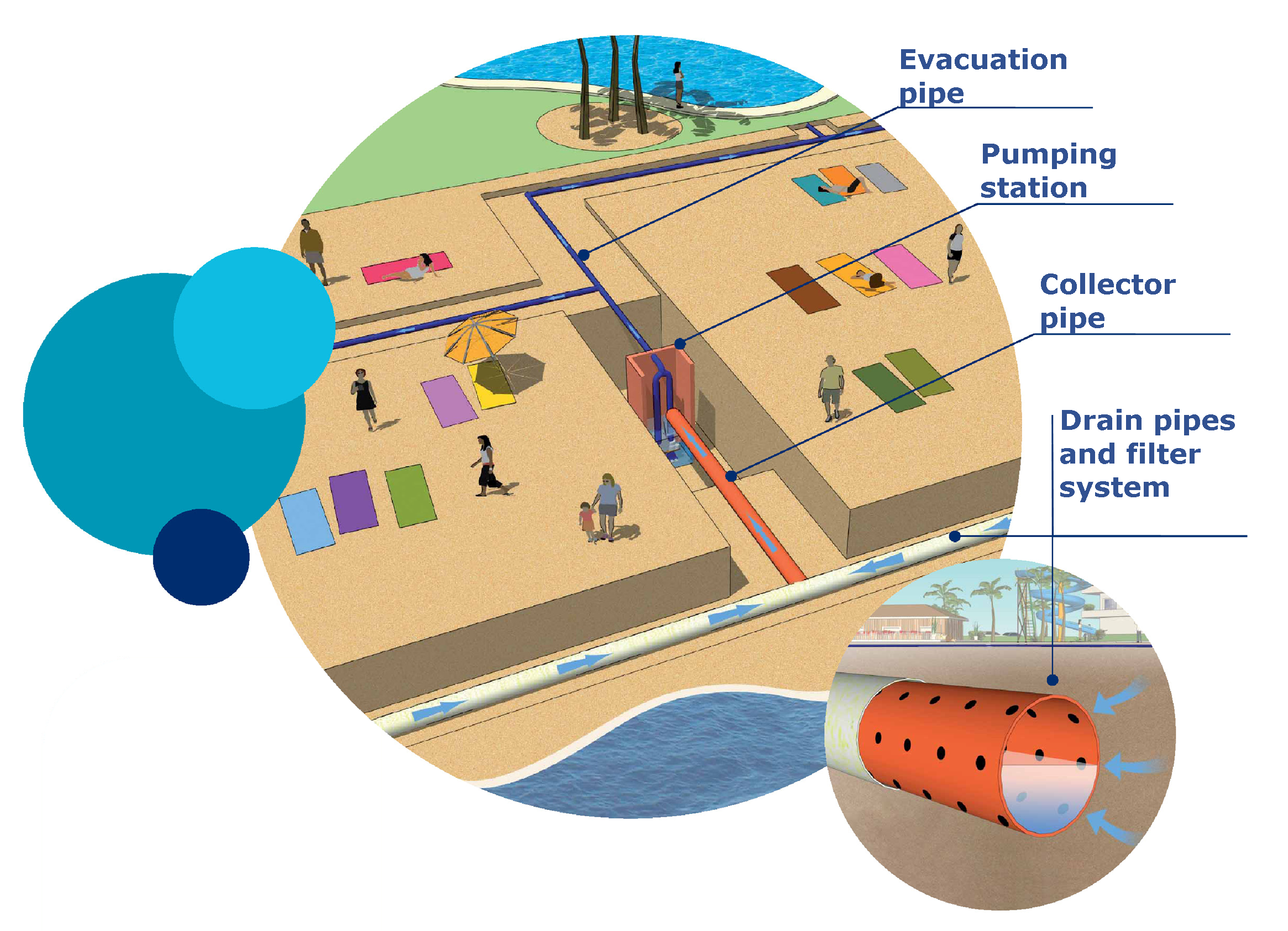 An ecological and economical method
The Ecoplage® system is invisible and silent. It has therefore no negative impact on the landscape. It creates a stable beach balance, without any impact on the neighboring shorelines. It does not shift the erosion issue.
The Ecoplage® technology has no negative impact on the fauna and flora. It can even contribute to the protection of ecosystems: for instance, in Saint Raphael beach, the installation of the Ecoplage® system has favored the protection of the Posidonia meadow.
Consequently, Ecoplage® is a "soft" method, as part of a sustainable development strategy.
Ecoplage® allows also cost savings :
Reduction or cancellation of sand nourishment operations or reprofiling
Reduction of maintenance operations on infrastructures, seawalls, ripraps…
Protection of coastal infrastructures and buildings threaten by the coastline retreat
Moreover a well-drained beach is dryer, which entails a significant increase in available beach activities.
Several Universities have carried out scientific monitoring of the Ecoplage® installations. They clearly show that this technology is an effective method to fight erosion, or even stabilize or rebuild a beach.