Using Seawater To Heat And Cool A Building
Marine geothermal energy consists of using seawater's calories for a heat pump to convert it into energy to cool and heat buildings or swimming pools near the coastline. This innovation can save lots of energy and water. For 1KWh of electricity used, 4KWh of thermal energy is produced. These energy savings lead to a reduction of up to 80% of greenhouse gas emissions, compared to fuel oil.
Nordic countries were among the first to use this method to heat and cool buildings. Since then, other territories such as the Principality of Monaco have invested in this technology. From 1963 to today, Monaco has installed around 80 systems on its territory which contribute to 17% of the total energy. In addition, studies were carried out as part of the Optima-PAC project in 2015 and found that this technology had no negative impact on biodiversity. (Source: Principality of Monaco)
The potential of using seawater as a local energy source is significant. Despite the market starting slow, marine geothermal energy is attracting more and more communities and businesses that are located on the coast.
Here's a map showing you cities that use seawater as a way to heat/cool a building:
- In Biarritz, the Casino and the Espace Bellevue are air-conditioned with seawater and the calories are used to heat the building and the sanitary water of the public swimming pool.
- In Sète, the aquatic center is heated thanks to marine energy.
- A seawater heat and cold production system also exists in Leucate for an oyster spat hatchery. (Atlantic Society of Mariculture)
- In Dieppe, the tourist office and a sailing center also produce heat using seawater. About 300m² are heated with a heat pump (10kW) that uses seawater.
- In Corsica, in Ajaccio, Fesch museum has a heat pump and exchangers to cool the building with seawater and reduce energy costs. Also, seawater heat pumps have been installed for 9 villas (Low consumption buildings) of the U Livanti holiday village in Propriano.
- In Dunkirk, 2 seawater heat pumps have been operating since 2014 to cool and heat the Halle aux sucres building.
- Heating and cooling needs of La Rochelle's aquarium are met thanks to a seawater intake in the port.
- In Lorient, the Cité de la Voile Tabarly converted into an underwater base that produces heat and cold thanks to a seawater heat pump to reduce their energy consumption. Soon, a Sea Spa Center will be built nearby in Larmor-Plage and the use of marine geothermal energy is being considered.
In Marseille, MuCem museum is air-conditioned and heated thanks to seawater as well.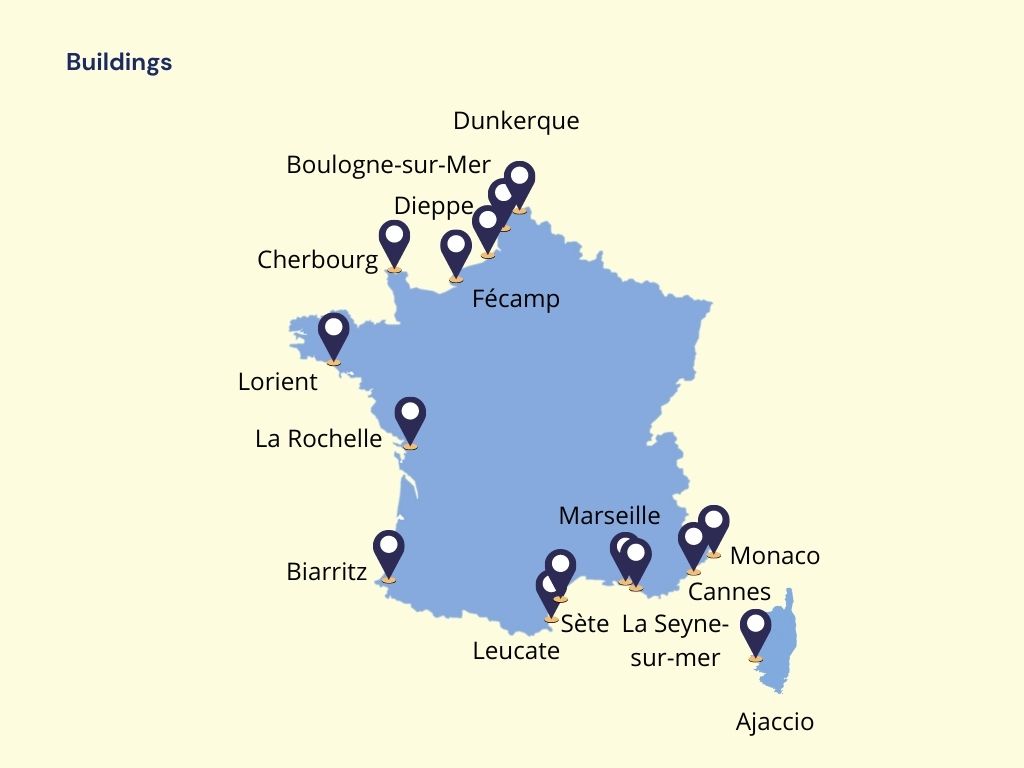 A marine geothermal energy project is also underway in Cannes in order to be able to heat and cool the Festival Palace as well as in Fécamp for its future Sea Spa Center.
Marine geothermal energy is an innovative system that is becoming increasingly popular to reduce energy costs and pollution. Its development is also taking place in La Seyne-sur-Mer, Marseille's port, Cherbourg, Brest, Monaco and Barcelona. The fishing port of Boulogne-sur-Mer is also considering it.
Islands are facing costly impacts of hydrocarbons in order to meet their growing energy needs. The use of seawater would highly benefit them. They can meet their energy needs (heating and air-conditioning), by using a local and abundant resource in these territories: seawater. Marine geothermal energy is already being used on certain islands around the world as well as SWAC systems (Tahiti, Reunion…). It is being considered on different islands today, to save energy but also because these areas are ideal for this kind of innovation to thrive. This technology can help limit their energy dependence and could also offer access to drinkable water.
One of the main obstacles to the development of marine geothermal energy is the investment and maintenance costs of seawater intakes. Underwater seawater intakes require underwater work and the risk of clogging requires maintenance that needs to be carried out by a professional diver. Sand filters can also be quite expensive and bulky.
The Enerplage® system overcomes these constraints by providing naturally filtered seawater by the sand from the beach.
Thanks to its system of drains placed under the beach, the collection of seawater is easier and clean and does not require any maintenance or additional sand filters to supply the heat pump and the exchangers.
The position of the drains allows a continuous supply of seawater even during low tide. The Enerplage® system solves all the problems around classical seawater intakes and the use of a heat pump combined.
In 2013, ECOPLAGE installed the first Enerplage® system as an experiment to provide marine geothermal energy in Saint-Gilles-Croix-de-Vie to heat the water for the showers on the beach. This experiment was able to demonstrate the efficiency of the technology. Since then, ECOPLAGE has implemented the following systems:
On the beach in Saint-Jean-de-Luz to provide water for the pools (180m³/h) and the heating and cooling network at Thalazur Sea Spa Center.
On the beach in La Baule-Escoublac to supply water for the pools and to meet the heating and cooling needs of the Aquatic Center Aquabaule building. The system also works for the Rivage Sea Spa Center (80m³/day).
Although mainly used to meet the needs of a single building, marine geothermal energy can also be considered for entire districts to maximize its performance and reduce pollution at a greater scale.